COMPANY OBJECTIVES
At Wentz Financial Group, we open doors to a successful and meaningful retirement plan. As a privately held, independent company with a core focus on retirement, Wentz Financial Group reinvests in employee training and innovative technology to provide ongoing enhancements that benefit our clients, large and small. We proactively educate employees about the importance of participating in their company retirement plan and the benefits of doing so. Our goal is to reduce the employer's time spent on managing the retirement plan, educate and answer questions for employees, and work to reduce fiduciary liability on the company as a whole.
OUR RETIREMENT PLANS OBJECTIVE
Wentz Financial Group strives to assist companies in presenting the most beneficial retirement plan for both the company and their employees. Our attention to detail and focus on education allows us to create and maintain retirement plans that truly add value to the employer-employee relationship. Our desire to strengthen investing principles with participants is reflected in our extensive education process. We never lose sight of the trust placed in our firm by your company or your employees.
WHY WE ARE DIFFERENT
As an independent practice, Wentz Financial Group is not restrained by any proprietary investments or platforms. This allows us to create a spectrum of investments that best fits the needs of the company and its participants as a whole.
Wentz Financial Group has a distinct due-diligence process that allows us to review each investment in full detail before it is implemented in to any of our retirement plans. We travel across the country to meet with investment managers that run each of the proposed investments so we can fully understand their philosophy and procedure. This allows us to match the investment style to you and your participants' needs.
COMPONENTS OF A SUCCESSFUL RETIREMENT PROGRAM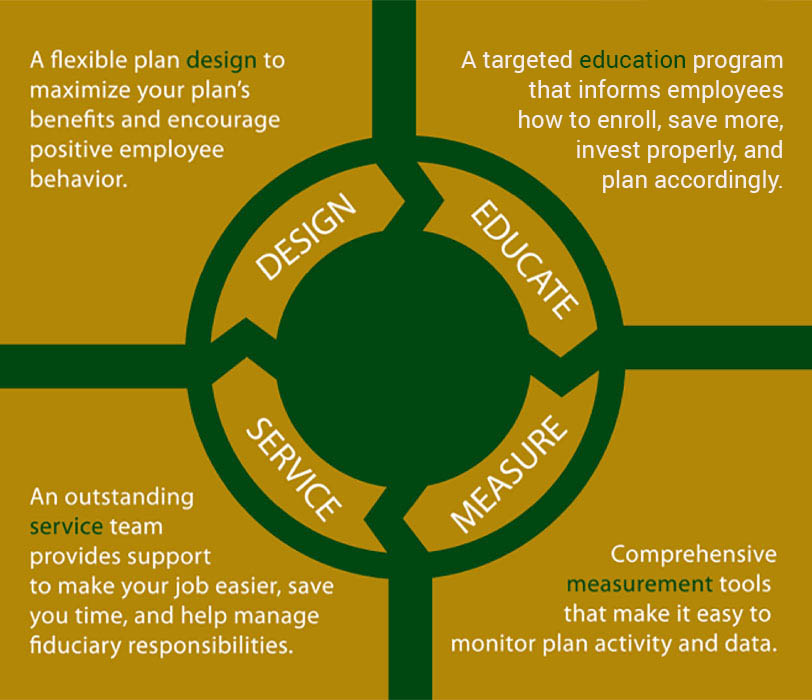 OUR PROFESSIONAL SERVICES
Business Retirement Planning
Estate Planning Options and Designation
Money Purchase Pension Plans
Profit Sharing
401(k) Plans
403(b) Plans
457 Plans
Simple IRAs
SEP IRAs
Defined Benefit Plans
Business Continuation
Cash Management Program*
Estate Planning
Trust Services*
*These services are not offered through Raymond James