Wentz Weekly Insights
Stocks End Third Quarter Down Over Investor Repositioning
September lived up to its historical record, being the worst month of the year with market data going back to 1960, as stocks ended the month down 4.87% and the S&P 500 seeing its largest pullback since last December. In fact, the third quarter ended Friday with a 3.65% decline. Value stocks largely outperformed growth, a reversal of the first six months of the year, and large caps outperformed small caps.
According to JPMorgan, the weakness in the third quarter was based on investors re-positioning for higher interest rates for longer. That re-positioning is apparent in the chart below that illustrates asset class returns in the third quarter. Commodities, driven by a 30% increase in crude oil, and cash, driven by 22-year highs in interest rates, were the two only positive asset classes. At the same time, interest rate sensitive asset classes like Real Estate Investment Trusts (REITs) and small cap stocks, particularly growth, underperformed.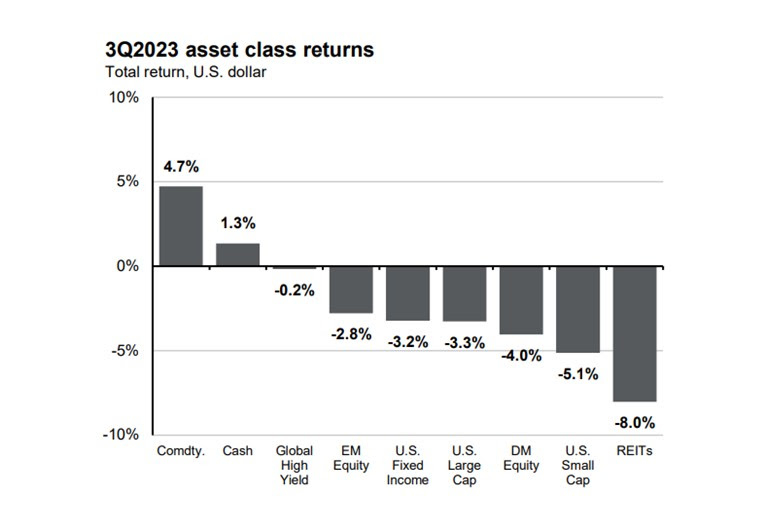 What continues to drive performance at the index level in 2023 is big tech stocks. Using year-to-date data as of Friday, the S&P 500 is up 11.7%. Meanwhile, the average return of the top eight tech stocks (Apple, Microsoft, Alphabet, Amazon, Nvidia, Tesla, Meta, and Netflix) is 83.3%. These same eight stocks make up 28% weighting of the S&P 500 index and their weighted return is 19.5%, meaning the average stock in the index is still substantially underperforming. Another way to look at it is by looking at an equally weighted S&P 500 index where all 500 companies carry an equal weight (each of the 500 stocks makes up 0.2% of the index). The year-to-date performance on the equal weighted S&P 500 is 0.9%, still nearly a 11% underperformance compared to the index.
While the third quarter ended on a bitter note, the fourth quarter tends to perform much better. The final three months of the year have historically returned 4%, almost half the historical annual return of stocks. However, it may prove more difficult for this to continue this year as markets will have to overcome many headwinds, including declining liquidity.
Bank deposits have seen massive outflows which is expected to accelerate in October. Deposits at all US banks peaked at $18.203 trillion in April 2022 and since then have steadily declined. As of September, bank deposits were $17.3 trillion, down 4.1% from a year earlier and the amount in bank deposits has fallen at the fastest pace in history (according to the St. Louis Fed with data going back to 1973). The reason is consumers are working through savings built up through the pandemic as well as finding better opportunities to use cash, such as money market investments where interest rates are over 5%, versus the rate banks are paying on deposits which is still near 0%.
Deposit outflows are expected to continue into October as rates remain high, student loan payments resume, and billions in backed-tax payments will be due October 15. As this happens it squeezes liquidity and could continue to push Treasury yields higher. If this is the case, it will be a factor continuing to pressure stocks.
It should be a quiet start to the month until mid-October when earnings season kicks off. With Congress agreeing to a continuing resolution, a government shutdown was averted over the weekend. Congress will now have an additional 45 days to negotiate on a budget for the new fiscal year. A government shutdown historically does not affect stocks, we saw it as more of a distraction. The bigger issue was earlier this year in increasing the debt limit to avoid a default.
Investors' focus this week will be centered around economic data on the labor market. The main event is Friday's employment report. Economists are estimating 160,000 jobs were added in September, relatively consistent with the 6-month trend. Prior to that, we will see data on job openings and quits on Tuesday, ADP's payroll data on Wednesday, and weekly jobless claims numbers on Thursday. Stronger than expected employment data could push rate expectations higher, further pressuring Treasuries and stocks, while weaker data may pull down rate expectations, but bring back recession worries.
Week in Review:
The same worries from the prior week are what was in focus to begin last week; the ongoing UAW strike against automakers, the inability of Congress to pass a budget for the new fiscal year, and the higher for longer mentality from the Fed. There were no new headlines on Monday which helped stocks move higher for the session. Treasury yields saw an uptick after giving back some gains to end the prior week with the 10-year yield back over 4.50%. Meanwhile, the S&P 500 rose 0.40% on the session on weak breadth. Later in the day the government's credit was back in focus after credit rating agency Moody's said the looming government shutdown could be credit negative underscoring the weakness in governance.
Markets got off to a weak start on Tuesday, driven by a global selloff after more concerns arose from China over its property market after its largest developer Evergrande said it had to miss a significant debt payment. Then, in an interview, comments from JPMorgan CEO Jamie Dimon made headlines after he said the world may not be ready for 7% interest rates. Relatively flat day for Treasuries while US stocks saw weakness across the board, all 11 sectors were lower with growth and tech underperforming as the FTC brought antitrust lawsuits against Amazon's anticompetitive practices. The NASDAQ fell 1.57% while the Dow lost 1.14% for its worst day since March.
Stocks attempted to bounce from Tuesday's declines after China showed more support with a liquidity injection, but at the open US stocks were relatively unchanged. Early in the day the Senate voted to advance a short term continuing resolution but House Speaker McCarthy said he would not allow a vote in the House. Otherwise it was a quiet day with stocks mixed on the day, Treasuries seeing additional weakness as yields rose, and oil rising 3.6% to new YTD highs.
Thursday morning data on weekly jobless claims remained at the lowest levels of the year while the final revision of second quarter GDP was unchanged at a 2.1% annualized growth rate. Stocks rose with most noting short term oversold conditions while yields saw another small pullback. Utilities were the only sector lower with the S&P 500 rising 0.59%.
The most anticipated data release for the week was the personal income and outlays report Friday morning that showed steady growth in incomes and consumer spending while the rise in inflation was slightly lower on a monthly basis, but as expected on an annual basis (see economic data section below). The autoworker strike and the looming government shutdown remained unsolved after another week, however the autoworkers union took their wage growth demand down to 30%+ from 40%+. Stocks ended Friday down 0.27%.
Stocks ended mixed last week, favoring small caps over large caps and growth over value. The Treasury yield curve saw a steepening as shorter term yields moved lower while longer term yields continued their move higher. The 2-year note's yield fell 5 basis points to 5.05% while the 10-year yield rose 14 bps to 4.58%, after reaching a new 16-year high of 4.69%. The dollar index was stronger by 0.6% as longer-term rates moved higher, gold finished down 4.1%, and oil rose 0.8%. The major US stocks indices finished as follows: Russell 2000 +0.48%, NASDAQ +0.06%, S&P 500 -0.74%, and Dow -1.34%.
Recent Economic Data
Sales of new homes fell 8.7% in August to a seasonally adjusted annualized sales pace of 675,000 homes. The number was below expectations however the sales pace shows a 5.8% improvement from a year ago. The number of new homes for sales was relatively unchanged at 436,000, representing 7.8 month supply at the current sales pace, improving from 7.0 months in July and closer to a balanced market. Homes sold that are currently under construction drove the decline, falling 16% from last month, while homes sold that were not yet started and those that were just completed were relatively unchanged. The median price of a new home fell 1.4% to $430,300 and is unchanged from a year ago but still down 13.3% from record highs.
Home price increases are picking up pace again after almost a year of declines. Home prices rose another 0.6% increase in July after a 0.7% increase in June for the sixth consecutive monthly increase, coming after seven consecutive monthly declines that closed out 2022. The index of home prices now stands at 1.0% more than the level a year ago and after a 5.0% decline from the peak in June 2022 to January 2023, home prices are back at new record high levels. However, regional differences in home price movements "continue to be striking," according to the report and data. Seeing the strongest 12-month increase in prices is Chicago +4.4%, Cleveland +4.0%, New York +3.8%, and Detroit +3.2%, with the largest 12 month declines in the West including Las Vegas -7.2%, Phoenix -6.6%, and San Francisco -6.2%.
Orders of durable goods increased 0.2% in August, up five of the past six months. It was better than a small decline that was expected and a large improvement from the 5.6% decline in July (blame aircraft orders). The strength was driven by machinery, electronics, electric equipment, and a large increase in defense aircraft. Stripping out the volatile categories, core capital goods orders was up a very strong 0.9% in the month. One of the most important numbers, growth in shipments of non-defense capital goods excluding aircraft which feeds into the calculation for GDP, increased a strong 0.7% in the month, coming after a 0.3% decline in the prior month.
GDP increased at a 2.1% annualized rate in the second quarter, according to the final GDP estimate for Q2, which is the same as the second estimate released a month ago. In the latest estimate, there was a downward revision to consumer spending, offset by upward revisions to business investments, exports, and inventory growth.
The number of jobless claims filed the week ended September 23 was 204,000, relatively unchanged from the prior week, remaining at the lowest levels of the year. The four-week average was 211,000, down 6k from the prior week. The number of continuing claims was 1.670 million, up 12k from the prior week with the four-week average down 12k to 1.674 million. Continuing claims are also near the lows of the year.
Personal income & outlays:
Personal incomes rose 0.4% in August, as was expected for the strongest monthly gain since January when it was up 0.7%. The important wages and salaries component of income has been the strongest part of income growth, up another 0.5% in the month and now up 4.9% from a year ago, although slowing from the 12 month increase of 5.2% last month.
Consumer spending increased 0.4% in the month, coming after a 0.9% increase in July and for the lowest monthly increase in three months. Spending is up 6.7% from a year ago, slowing from the 7.0% 12-month rate in July. In the past couple months, spending on goods has picked up pace while services spending has slowed somewhat. Consumer spending on goods rose 0.6% while services rose 0.4%. However services spending is still up 8.1% from a year ago, while goods spending is up 3.9%.
The PCE deflator, the measure of inflation that the Fed favors, increased 0.4% and slightly below the 0.5% expected however was the highest monthly increase since January due to the rise in gasoline and energy prices. The price index is up 3.5% from a year ago, accelerating from the 3.3% 12-month pace in July. One of the most important inflation readings, the core PCE price index, rose 0.1% and also slightly lower than the 0.2% expected, and is 3.9% higher from a year ago, slowing from the 4.3% rate in July and falling below 4.0% for the first time since September 2021.
The personal savings rate remains below the historical averages. The savings rate was 3.9% for August, below the pre-pandemic trend of about 7.5%.
Another drop in the stock market and a rise in oil prices put downward pressure on consumer confidence in the latest reading. The Conference Board's consumer confidence index was 103.0 for September, down from 108.7 in August. The present situations index was relatively unchanged at 147.1, indicating solid conditions still, but the expectations index fell to 73.7 in September from 83.3 in August. A reading below 80 is typically signals a recession in the next year. Write in answers on the survey showed consumers are particularly concerned with rising prices still, especially groceries and gas.
The University of Michigan's September consumer sentiment survey index was 68.1, falling from 69.5 in August. Consumers had a small decline in expectations on their personal finances which was slightly offset by improved expected business conditions. The current conditions index fell 4.3 points to 71.4 while the expectations index rose 0.5 points to 66.0. Inflation expectations over the next 12 months were 3.2%, lower than the 3.5% expected in August, while five-year inflation forecast was 2.8%, falling below the 2.9%-3.1% for only the second time in the last 26 months.
Money supply in the US economy finally saw another drop, after three straight months of increases (which saw nine consecutive monthly declines prior to that). The supply of money fell 0.2% in August and is now down 3.9% from the peak level July 2022. This is still an overlooked cause of persistent inflation in my opinion, with money supply of $20.865 trillion up 35%, or $5.4 trillion from February 2020 (the month before the pandemic began).
According to Freddie Mac's weekly mortgage survey, the prime 30-year mortgage rate rose 12 basis points last week to 7.31%, a new 23 year high. The low this year was 6.09% in February.
Company News
A report by an Indian news outlet PTI said Apple is planning to increase production in India by more than five-fold over the next five years to $40 billion, significantly more than the $7 billion in production last fiscal year. This is all part of its plan to continue diversifying its production away from China to de-risk its supply chain. It currently makes some of its iPhones India and plans to begin making AirPods there next year.
OpenAI, the maker of the chatbot ChatGPT and which Microsoft invested billions in, said with its new update the chatbot will be able to see, hear, and speak with users, allowing people to opt into voice conversation or showing ChatGPT what you're talking about with images. It also came out with Whisper, an open-source speech recognition system that transcribes spoken words into text.
Separately, OpenAI is reported by Reuters to be in talks to sell existing shares to investors that would value the company at $80 to $90 billion. The deal would allow employees to sell existing shares. As reported earlier in the year, share sales (which include Microsoft's investment) valued the company at $29 billion. Separately, OpenAI said its ChatGPT can now browse the internet for current information, no longer being limited for information prior to September 2021.
As reported a couple weeks ago, the Federal Trade Commission and 17 states filed an antitrust lawsuit against Amazon, alleging the company uses its monopoly power to stifle competition and artificially raise prices that deterring other online retailers from offering competitive prices to Amazon.
Part of Disney's "transformation" it talked about several months ago was a bigger focus on putting content back in the hands of the creators, as CEO Bob Iger would say, as well as its shift to focusing on profitability rather than subscriber growth within its streaming business. According to "What's on Disney Plus" Disney is beginning to focus on cracking down on password/account sharing. The new Disney+ service in Canada and Europe will have a Standard and Premium subscription and the biggest difference is the number of concurrent streams you can have at once – standard being up to two and premium being up to four.
Other News
Credit rating agency Moody's warned that a government shutdown would be "credit negative" for the rating of the US credit. It said that although the actual economic impact is relatively limited, the bigger issue is what led to the shutdown and underscores the weakness of the US governance strength which would lead to the negative credit watch.
Worries over China's property sectors picked back up last week after one of its largest property developers, China Evergrande, cancelled a key creditor meeting and said it missed a significant principal and interest payment of $547 million due September 25. Along with the news, it said it needs to reassess its proposed restructuring plan.
The price of Crude oil increased 30% in the third quarter and moved over $90/barrel for the highest level since November, driven by better demand and lower supply. It was recently reported by Bloomberg and Reuters that oil inventories at the Cushing hub, the largest oil inventory in the US, reached the lowest seasonal level in five years and are approaching historical low levels as inventories have declined for the seventh consecutive week. Stockpiles are nearing the minimum operating levels for the facility at around 20 million barrels, with current stock levels at 22.9 million barrels. For reference, levels were at 43 million barrels just four months ago, and Cushing's capacity is over 98 million barrels. A separate report from the Financial Times said hedge funds continue to ramp up bets on oil prices exceeding $100/barrel, adding to the recent upside pressure on oil.
Central Bank – Notable remarks:
Chicago's Fed president Austan Goolsbee said the risk is inflation staying higher than where the Fed would like to see it and the next big question for the Fed is how long it needs to hold rates at these higher levels. Later in the week, Goolsbee gave three reasons why he thinks the Fed will be able to achieve a soft landing – the unwinding of supply shocks from the pandemic, demand returning to more stable patterns, and credibility at the Fed in keeping inflation expectations anchored now versus in other periods of high inflation. He also mentioned external shocks, for example oil price hikes, slowdown in China, the auto strike, or government shutdown, could change the soft landing expectation.
Minneapolis Fed president Kashkari said in an essay that he sees a 40% chance the Fed will need to raise rates by more than the 25 basis points already projected by the Fed. He said this is a likely scenario (raising rates even further) if consumer spending continues to exceed expectations and inflation persists in the 3% range. On the other hand, he sees a 60% chance of a 'soft landing' scenario where rates rise just another 25 bps and inflation falls to 2%. Separately, in an interview this morning he said his projections are for another rate increase this year and to hold them unchanged throughout 2024.
Did You Know…?
Who Still Have Excess Savings???:
A recent study of household finances by the Federal Reserve and reported by Bloomberg shows that the bottom 80% of American households have run out of extra savings and now have less cash on hand than they did pre-pandemic. It says that the wealth of the bottom 80% of households (includes income, bank deposits, and other liquid assets) was lower in June, after adjusting for inflation, than it was in March 2020, right before the pandemic spread. For the top 20% households, cash savings are still about 8% above pre-pandemic levels. It was not until last quarter that the middle class (the next 40%) saw their cash savings fall below pre-pandemic levels.
WFG News
L ast Change to RSVP!!!
The Election & Its Impact on The Markets:
Wentz Financial Group is happy to announce we will be brining back guest speaker Phil Orlando for a discussion on his and Federated's thoughts on the current market and economic environment. Phil will expand on the election of 2024 and its implications for markets. Phil Orlando is Chief Equity Market Strategist of Federated Investors with over 43 years of experience and is responsible for formulating Federated's views on the economy, markets, and the firm's investment positioning strategies. RSVP early as this event will reach capacity quickly!
Tuesday, October 3 @ 6:00 pm
Wednesday, October 4 @ 12:00 pm
The Week Ahead
On the corporate side of the calendar, this week and next will be one of the slowest weeks of the quarter in terms of earnings reports as we head into the new quarter, before things pick up mid-October. The only notable earnings releases this week are McCormick on Tuesday and Constellation Brands, Levi Strauss, and Conagra Brands on Thursday. There will also be several brokerage conferences and investor events where we may hear company specific news. Turning to the economic calendar, it is jobs week where we will get an update on the labor market based on several data releases. First is the job openings and labor turnover survey where the focus will be on the number of job openings as well as the quits rate. On Wednesday we get data from ADP on payroll growth and on Thursday we see weekly unemployment claims data. Then the main event for the week is the DOL's employment report on Friday where economists are estimating 160,000 jobs were added in September with a 0.3% monthly increase in the average wage. Other data on the calendar include the PMI and ISM manufacturing survey indexes and August construction spending numbers on Monday, numbers on September vehicle sales on Tuesday, Factory orders and the ISM services index on Wednesday, trade data on Thursday, and consumer credit balances on Friday. It will be a big week of Fed speak with policymakers speaking each day this week and a speech by Jerome Powell late Monday morning. OPEC+ will hold another meeting mid-week and no change in production quotas are expected, but market participants will be show interest in the decision with the price of oil at the highest level since last November. Other factors that could continue to affect stocks and sentiment include the autoworkers strike against the auto companies and Congress working out a budget to avoid a government shutdown.